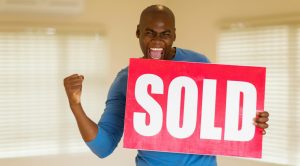 How well are your listings presented?
More and more prospective home buyers are doing their preliminary research online. Gone are the days when you could simply show a buyer a house in person and let it speak for itself.
Because people don't look at a house in person unless it looks impressive online. And there's a huge amount of competition, so how do you stand out from the crowd?
The solution is to have the best possible photos of your listed properties so you rise above the competition, and your listings virtually sell themselves. Online photos are your properties' only chance to make a positive first impression on potential buyers. (Click to Tweet)
And to do that you need to choose a well-qualified photographer. Here's what to look for:
Experience in Real Estate Photography
All photographers are not the same – they specialize in what they're good at. So look for a photographer who has shot real estate listings before.
Ask to see a portfolio or samples of past work to verify that it is of the calibre that you are looking for. Pay special attention to the lighting in the sample.
Correct lighting can make a home look fantastic, but poor lighting can make the house look dim and undesirable. As you consider each photo, think about whether or not it would make you want to buy that house.
If the answer is "no," choose a different photographer.
High-Quality Photographic Equipment
It seems as though everyone is using their smartphones to take pictures these days, but this is not what you want for your real estate photography. If a photographer claims to be a professional, he or she should have the equipment to match.
Aside from the camera itself, this could also include flashes, lamps and light reflectors to name just a few. Ask your photographer to stay away from the wide-angle lens.
Although the fish-eye effect can look great for some photo styles, real estate photography is not one of them. You don't want the photos to distort the look of the rooms.

Attention to Detail
In reviewing a photographer's past work, note their attention to detail. This includes little things like whether or not there is trash in the kitchen trash can or if the beds in the bedrooms are neatly made.
Although these are things that many people might overlook, they can make a big difference in the photos when potential buyers are making a judgement on the home. If a photographer didn't notice these types of things when shooting other listings, he or she is unlikely to notice them for yours.
Easy Booking System
It can take a lot of time to coordinate a photography shoot. Coordinating times that work for both the photographer and the vendor can take hours.
You don't have the luxury of that sort of time.
So look for a company that makes your life easy by offering a booking app. That way you can schedule the photo shoot in minutes, while you're with the vendor.
When properties look gorgeous and inviting online you'll attract more potential buyers, making your life easier. And we all want an easy life, don't we?