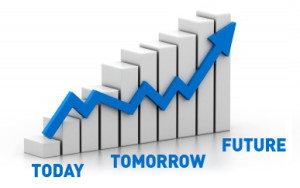 There are positives and negatives to both short-term and long-term marketing schemes, but both are necessary to produce sales. While it may seem like your short-term marketing efforts are bringing in all the sales, it is really the result of both marketing types combined.
Do you notice sudden sales spikes that don't seem to last? These are the result of short-term marketing efforts. The sudden increase in sales are the result of a targeted marketing campaign or limited time offer, but to sustain sales these must be mixed with long-term marketing efforts. The importance of building a recognizable brand will assists in long-term efforts… you are your brand.
A common mistake that is often made is relying on the short-term bursts one after the other in order to constantly drive sales. Due to the nature of short-term rational campaigns, they can become unmemorable, un-creative and repetitive. This can be detrimental to a brand's personality and therefore their position within the market.
It has been considered that longer term campaigns, usually occurring over a period of six months, have the opportunity to build emotional ties and give different relatable dimensions to the brand that can be creative and memorable. It can be difficult to stray away from short-term campaigns due to their quick return, but more successful brands have had the confidence to apply budget to longer term campaigns, with lower expectations of high returns until the first few months are over.
The emotional campaign needs to take time to really connect with the consumer; making a person feel like they are getting something much more valuable for their money can set you apart from competition and can even justify higher prices to the consumer. This is one of the many reasons for long-term emotionally toned campaigns.
You may be wondering what long term marketing initiatives look like… here are some examples:
Search Engine Optimization
This is the most time consuming, but important aspects of long-term marketing. This step requires preparing and optimizing a website for search engines. Currently the majority of home buyers look to search engines — using. Most Internet surfers use keywords to search for the service or information that they are looking for. Knowing your audience and optimizing a site for keywords and phrases that potential consumers would use in their search for your brand is critical to being found on the Internet.
Search engine optimization pays long-term dividends, but is an ongoing process, as the search engines themselves are constantly evolving their algorithms. The goal of search engines is to provide web surfers the best sites suited to the web surfers' search terms.
Often, changes implemented will not be "seen" by search engines for several months. It is important to follow search engine guidelines and be patient.
Fresh Content & Communication
A stream of fresh content like newsletters, tips or blog posts will result in long-term quality traffic. Fresh content that is posted and updated on a regular basis will encourage visitors to return. Archived content will build a base for a variety of related keywords.
Syndicated Articles
Related industry articles will result in genuine interest from a very targeted audience. Providing related content articles that are available for syndication will result in links back from websites that contain similar content. Over time, articles can define a company's expertise on a subject area. Ultimately, syndicated articles can build confidence with prospective customers and a level of trust.