We have new music!

You asked and we delivered, Pixilink Solutions has added 10 new songs to choose from for our Video Tours and Virtual Tours, making it a grand total of 30 tracks!
If you would like to review all of our available tracks, please click here or the preview photo below: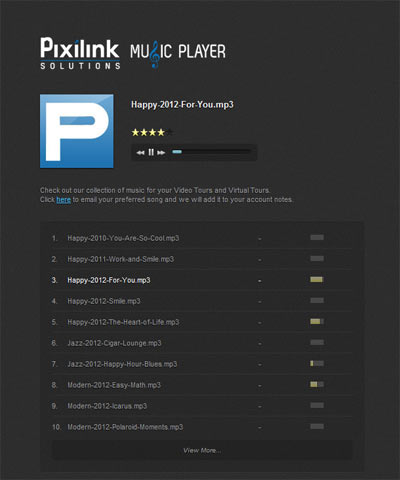 If there are any specific songs which you would like to use exclusively for your Video Tours or Virtual Tours please let us know the name of the song and we would be happy to add it in to your account notes. Additionally, if you would like us to update any of your previous Virtual Tours or Video Tours please let us know the address of the property as well as the name of the song and for a minimal update cost of $5 for Virtual Tours and $25 for Video Tours we would be happy to update it with your fresh new track.
From all of us at Pixilink Solutions we thank you for continuing to use our services. We hope you enjoy these new music tracks and wish you the best of luck on your Real Estate endeavors.