New and improved MLS® Listings Map!

If you haven't already noticed, we are excited to announce that we have recently launched a completely updated MLS® Listings Map for all of our Pixilink 2.0 sites. With the utilization of Google Maps & some new server technology our new design not only loads MLS® Listings faster than ever but is also built on a user friendly, mobile compatible interface. This means that prospective buyers can efficiently browse MLS® Listings through your site both at home on their desktops or out and about on their mobile devices.To see the updated MLS® Listings Map, either click on the MLS® Listings Map Search option under the Featured Properties tab on top menu of your website or the graphic MLS® Listings Map Search button on your home page.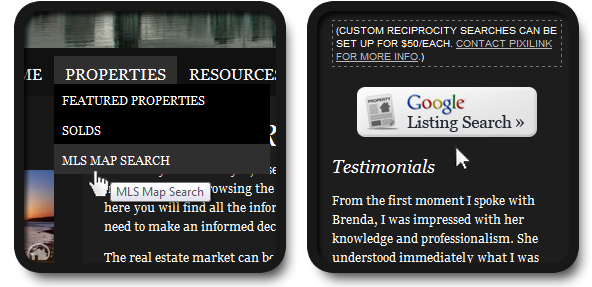 You can see a sample of our updated MLS® Listings by clicking here or the image below:

In addition to these great new features one of the nicest additions to the new map has to be the full screen mode.  With the simple click of a button you can now unlock your monitors true potential by expanding your MLS® Google Map to full screen mode. This allows for faster, cleaner and more efficient property searches by cutting out the wasted screen space and expanding your searchable areas.
We hope you enjoy our new MLS® Google Map and look forward to continually providing you with top of the line Real Estate Website Technology.